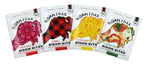 Bison Bites Grass Fed Bison Snack
Bison Bites are a 100% grass fed bison snack from our ranch in Western Montana.
Bison Bites are the best bison meat snack you'll find anywhere. 
All of our unique flavors are low in carbohydrates and sugar free, making them the perfect paleo, keto or high protein snack for those on the go. We smoke our premium bison meat with hickory making them extremely tender and packed with flavor.